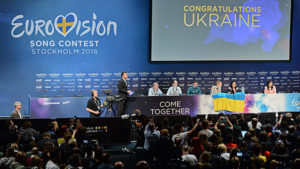 The European Broadcasting Union is in negotiations with Kyiv and the National Television Company of Ukraine about reversing the blacklist. The blacklist is expected to create hurdles for Russian artists and journalists.

Talks come after Ukraine recently confirmed that Russian artists would still be banned from entering Ukraine for the Eurovision Song Contest 2017. This would happen due to Ukraine's blacklist of certain artists.
The Russian news source Izvestiya reports that EBU has assured that Ukraine would follow generally accepted standards. Officials claim Ukraine will not cause trouble for Russian media as well as Russian TV channels with the event broadcasting. EBU also says that Ukraine should not create obstacles for bringing light into the music event and obliges to give free entry to all the artists into the country.
We are holding the talks with Kyiv for all blacklisted Russians to be able to come and stay in the country during the Eurovision weeks. Eurovision Song Contest 2017 will remain, just like earlier years, an event for everybody. We hope Ukraine will respect the rights and freedom of all the artists taking part in the event",

European Broadcasting Union (EBU)
Moreover, the Ukrainian Eurovision Committee says that neither break of agreements with Russia, nor blacklists can "spoil the holiday of a lifetime". Especially, for those wanting to be a part of it.
Member of working group Committee, Timur Miroshnychenko talked to Izvestiya about the situation. He says that Eurovision is the celebration of life and good music, but also adds that we can't expect to see Ukraine dropping the blacklist completely.
It would be amazing if everyone could get there. Of course, there are people who have not done anything wrong. We need to make exceptions for those who want to enjoy the event. But at the same time, there are those who pose a real threat to the national security of the country. For such figures we cannot make exceptions.

Timur Miroshnychenko
Mr. Miroshnychenko continues about the accreditation system: "I do not think the gap of agreements between Russia and Ukraine will create obstacles for broadcasters or Russian media accreditation. accreditation are done through the European Broadcasting Union. There should be absolutely no problems".
He is however not addressing what will happen if Russia were to select one to the blacklisted artists. Yes, accreditation is done at EBU, but that doesn't include an an open border.
As we know from previous reports, Ukraine's published blacklist includes certain Russian artists. According to Ukraine, they cause a "threat to national security". Some of blacklisted artists are singers Valeriya, Grigory Leps, Mikhail Boyarski and others.