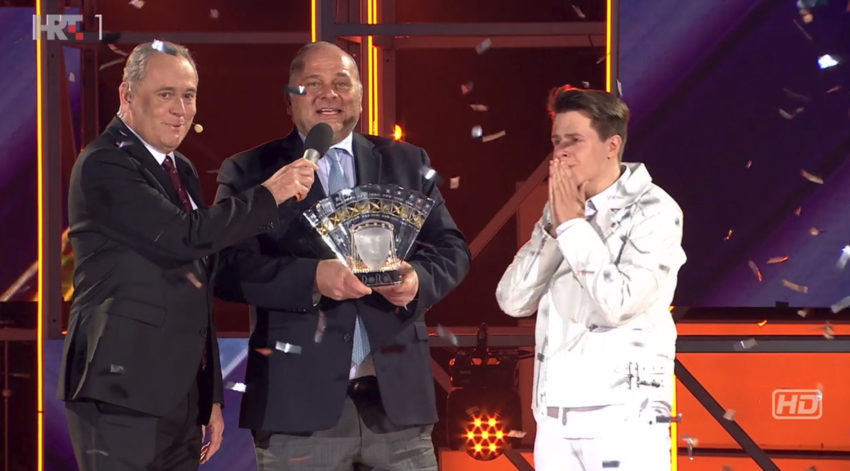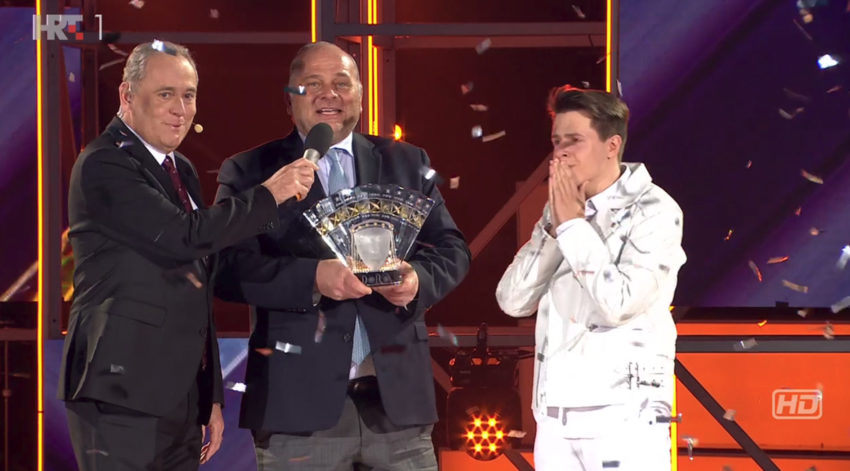 Dora returned with a spectacular and interesting final this year. Eventually, Roko Blažević was crowned the winner. His dream will come true, as he'll represent Croatia in in Tel Aviv.
Back in October 2018, Croatian broadcaster HRT revealed their plans to brush of the dust and re-introduce their well respected Dora format.
The songs
Bojan Jambrošić & Danijela Pintarić – Vrijeme Predaje
Introduced by a postcard of the pair dancing at a Croatian touristic site, this powerful love ballad really gets the show started. Without knowing the language, one gets a sense if the couple's struggle to be together which they – for reasons unknown – can't seem to be.
The stage is covered by white smoke, they are joined on stage by four backing vocals and the end of the song includes a waterfall of fire.
Jelena Bosančić – Tell Me
The postcards continue to show off true Croatian beauty. We see Jelena walking a path, reading handwritten notes. The song starts off a soft nostalgic ballad, but continues on slightly more up-beat jazz inspired notes.
In the routine we see her four dancers/backing vocals holding out a newspaper, in a literal reference to the song's lyrics.
We see Kim near a fountain for her postcard. In her performance, she dances along to her honest Croatian ballad in a short dress and high boots. The presence if her three backing sings can easily be forgotten. This strong performance is really one for fans of true Croatian music.
In his postcard, Jure seems to be reading his journal while looking out over the sea. He delivers his ballad apparently alone on stage, though joined by four backing vocals rather faded away in the background. It's a sensitive, seemingly personal ballad. It's easy to get the impression that whatever he sings really means something to him.
Suddenly the postcard music changed to something a lot more upbeat and happy, we see Beta walking through a garden. On rather the same faster beat, we then meet her on stage wearing a sexy, golden dress. Her two dancers start off, for reasons unknown, wearing VR glasses. At some point, those are for equally unknown reasons removed and we later see them dancing with what can only be described as golden wings.
Her happy popsong is a nice alteration to the ethnic tunes we've heard so far.
We now return back to music closer to what we expect to hear from Croatia. Lea delivers her ballad all alone on stage, in a large white and soft pink dress. I feel obliged to mention that her performance doesn't include the strongest vocals.
The sisters dance around in a bandstand in the postcard, before we meet them on stage sometime in the 30s or 40s. Or so it seems. The girls are dressed in dark long dresses, complimented by red shoes and gloves. They are joined on stage by a couple at a café table enjoying a drink, and later standing up for some swing dance.
To nobody's surprise, they're performing a swing-style song, about longing back to the time when that was all the hype.
For his postcard, Luka dances around in a park along a grafitti painted portraits on a wall. He performs his Latin inspired song on a very, very bright yellow suit, wearing yellow ear pieces. The performance is very much inspired by comics and superheroes. It features a cardboard superhero-stand and various props with text balloons with words describing sounds, not unlike the ones you might remember from the old Batman TV series.
Two dancers in neon-coloured outfits dance frantically along to his song, and we see a DJ wearing an equally colourful outfit further back
Back at the beach, Ećlis plays guitar and sets a bird free in her postcard. She has the guitar with her on stage for her slow, lyrical country song. Key words from her song fill up the screens behind and around her on stage. She performs in a large red dress.
We first meet Demenica swinging a ribbon, and hopping from stone to stone. On stage, she wears a very short white and pink tutu skirt. Her two side-vocals wear outfits identical to hers. The show producers seem to be following a rule against abandoning the Croatian music style for more than one song at a time; as that's where we're back at.
Despite Veloluška Domenica being credited as a solo artist, the performance as a bit of a girlband vibe to it; with the three performers delivering pleasant harmonies.
That was new! In his postcard, we see Roko on a pastry shop rather than the Croatian scenery that has been in focus so far.
He wears a white suit, and enormous white angel wings. He delivers his rock ballad with loads of confidence, which doesn't help against my impression that there's something slightly off. Maybe he agrees, as we first see him adjusting his earpiece and later it's entirely removed. That did seem to help.
After his performance, he received the largest applause from the audience so far.
The suitcase Ema carries in her postcard seems heavy, but when opened it revealed to contain a small paper heart.
She delivers her soulful popsong in a long silver skirt and sexy silver top. Her three backing vocals blend away in the background, as we've seen a few times before tonight. Stage light changes between blue, red, orange and green.
A very strong performance indeed.
Her fishnet outfit covers nothing, revealing black lingerie. Similar to Lidija, the four female backing dancers are dressed in very revealing outfits, their faces though covered by something that resembles futuristic prison bars.
The song is a confusing mix of pop, Croatian sounds and a lot of bells and whistles.
We first see Lorena near the beach, carrying a picture frame – on which she later pretends to play violin. Her performance starts with a top view of the stage, showing the tower of Babylon projected on the floor. She's dressed in a silver grey dress, with very high boots.
A song that could be taken right out of the beginning of the third act of a musical. Without having seen the rest of the musical though, it's hard to understand what happened to her at the tower of Babylon. Or do I just fail to understand the Biblical reference?
Bonus points for the Wonder Woman bracelets.
White and red rose peddles for her postcard, of course – it's about true love. Her long white dress wouldn't look odd if it were used as wedding dress. Her powerful ballad is, indeed, about love and missing the one she loves.
Four backing vocals blend away in the background.
The five-person band is introduced with them having fun near the beach. If anybody had fallen asleep, for one reason or another, it's impossible not to wake up. In The Shadows is a true rock storytelling rock song, with all the elements a rock song needs; strong vocals, guitar and drum solos, and loads of fireworks.
The Show
In the intro sequence, we saw participants entering the venue over a red carpet to a soft melodious tune. The tune stayed, but the picture changed to children dancing like angels among beautiful Croatian scenery. Then the show kicked off with a percussion performance, using LED drumsticks and oil barrals. Quite a treat!
The camera panned over to the audience, revealing Franka (Croatia 2018) performing an updated rendition of Crazy, followed by a medley of her other material.
As is customary for most music competition shows, we see the hosts chatting with a few participants after every three or four songs.
For the interval act, we are treated to a Croatian Eurovision medley. After ceremonial closing of the voting lines, we again meet the percussionists from before, this time with more common instruments including xylophones and chimes, and joined by keyboard and guitar.
The voting
To get to a final result, first regional juries delivered their set of 1-8, 10 and 12 points on true Eurovision tradition. The televote also had their set of points, which got added to the jury to make up the result.
Eventually, Roko Blažević was crowned the winner of the return of Dora, and will head to Tel Aviv for the 2019 Eurovision Song Contest. He came out with most points from both the viewers at home and the juries.
Several well known names
The Croatian line-up included many well known participants – both among the acts themselves, but also their songwriters:
As part of Gelato Sisters we find Neda Parmać, former member of Feminnem (Bosnia & Herzegovina 2005 and Croatia 2010).
Bernarda Bruno came second in the Swiss national final in 2011. She also took part in The Voice Germany in 2018.
Lea Mijatović has previously participated in national finals in Bosnia & Herzegovina in 2003 and 2005. In 2010, she took part in Dora as lead singer in the band Teška industrija.
Luka Nižetić takes part in Dora for the 4th time with previous participations in 2003, 2005 and 2007. He has quite a good career in Croatia.
Kim Verson participated in the Croatian selections for Junior Eurovision in 2005 and 2006. In 2010, she won the Croatian talent show 'Hrvatska traži zvijezdu' (Croatia search for the star)
Domenica's song is written by Tonči og Vjekoslava Huljić who also wrote the Croatian Eurovision entries in 1995, 1999, 2001 and 2010.
Roko Blažević is known from several talent shows in Croatia. His song is written by Jacques Houdek (Croatia 2017) and Charlie Mason who wrote Austria's 2014 winner entry Rise Like A Phoenix.
Luka Nižetić's song is written by the two Mihaljević brothers. Mario Mihaljevic wrote the Yugoslavian entry Džuli from 1983 and Branimir Mihaljević the Croatian 2010 entry.
Croatia in the Eurovision Song Contest
Since Croatia's debut in 1993, they have six times finished in top 10 – and have two fourth places from 1996 and 1999 as their best results.
After failing to reach the final four years in a row from 2010 to 2013, the country went for a little break for two years. In 2016, they returned with Nina Kraljić's Lighthouse. She did reach the final, but unfortunately finished 23rd. The following year, the selected Jacques Houdek who also reach the final – and came 13th with the song My Friend after an unusual alter ego performance where he demonstrated fantastic vocals. Just as you thought Croatia was on the right track again, Franka failed to qualify for the final last year.
In the video below, take a look at Jacques Houdek's My Friend from 2017: