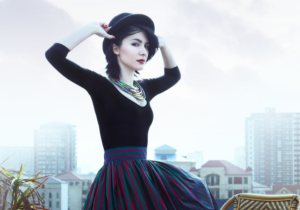 Diana Hajiyeva (Dihaj) will be representing Azerbaijan at the 2017 Eurovision Song Contest. The former backing singer will now fly solo after being internally selected by the broadcaster. 
Diana Hajiyeva, known more commonly with her stage name Dihaj has been announced to represent her country at the Eurovision song contest 2017 in Kyiv, Ukraine. This year Azerbaijan had selected an internal selection to find their representative, the song that Dihaj will be taking to Kyiv is yet to be announced.
Eurovision isn't completely unknown to her. She was the backing vocalist for contestant Samra who finished in 17th place with the song Miracle. She also tried to represent Azerbaijan at the contest before. In 2011 Dihaj entered the Azerbaijani national selection, but lost out to Ell & Nikki who went on to win the show with Running Scared.
The 2017 participant is 27 years old, born and raised in Baku, the capital of Azerbaijan. Besides singing she is also a songwriter and a producer. With a degree in Choral Conducting, she graduated from Baku Music Academy. She launched DIHAJ shortly after her graduation. This works as a band with her in front accompanied by a drummer and a guitarist.
Azerbaijan at the Eurovision song contest
Since their debut in 2008, Azerbaijan have never missed a grand final. The country hold the record for the winning song with the lowest average score. In 2011 Ell & Nikki scored 216 points and were the first mixed gender duo to win the contest since 1963.
In 2013, Azerbaijan came runner up at the contest. Farid Mammadov scored 234 points with his song Hold Me.
At this year's contest the country was represented by Samra, which you can watch in the video below: