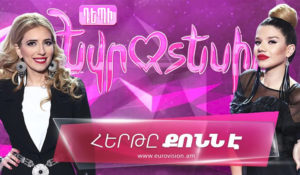 Artsvik will represent Armenia in Kyiv next year. Tonight, we saw the final of Depi Evratpesil in Armenia. Artsvik and Marta battled it out. It was a long journey for Artsvik. Next time we will see her will be in Kyiv. But what happened tonight and which songs did she sing.
Last week, we saw the second semi final where the top 4 artists fought for a ticket in tonight's final. Artsvik was chosen, using a 50/50 combination between jury and televoting.
For the final, the artists had to sing two songs, as they did, last week. They performed a song from well known singers and also another song in the Armenian language.
The Finalists
She began the show with two worldwide hits of Rhianna, Please Don't Stop The Music/Only Girl In The World. She was dressed in the style of Ariana Grande. Her vocals were quite good and simple. She delivered a good dancing performance but had difficulties with singing.
She later sang in the Armenian language. It was a sweet ballad, and we can see her sweet side without exaggerating the acting and the vocals. She was surrounded by fog and Blue/green lights, which made the atmosphere very peaceful.
The song of Artsvik was a famous ballad from Whitney Houston, I Have Nothing. The staging was magical, with the purple color and stars. The fog around her added more magic atmosphere. Her vocals were amazing and powerful. The song was more complicated than the song of Marta before her. She managed to reach the high notes in the chorus, this is a good point for now. She was very well applauded by the audience at the end of her performance.
The next song Artsvik sang was also an Armenian song, a song from Inga and Anush Arshakyan called Aprelu April. Her voice was very soft and powerful at the same time. We could feel the emotional atmosphere in her voice. This ballad is originally a duet, but she did it alone and was right in every technical detail.
The Show
The opening was a small mannequin challenge and then the dancers began to dance and sing on remixed versions of Lovewave, Not Alone, Anytime We Need, Qele Qele, Boom Boom, Nor Par ( Jan Jan ), Face The Shadow, Lonely Planet, Apricot Stone.
Armenians could vote by calling or sending a text message. In order to help the audience make their decision, a small recap of all the performances was shown.
After the recap, the Cypriot representative for the 2017 Eurovision Song Contest, Hovig, performed as the interval act. Hovig was the first act confirmed to compete at the contest in Kyiv next year. He tried to represent Cyprus in 2015 with his song Stone In A River, but finished in 4th position in the Cypriot national final. He performed that same song as an interval act for Depi Evratesil. He also sang the song by Bruno Mars, Treasure, and also performed in Armenian. Hovig also has Armenian heritage which made him an ideal act to perform during the interval.
Following next, was a small clip about Iveta Mukuchyan and her successful entry in Eurovision 2016. We saw in that clip, her performance, her interviews, the red carpet, everything about what she did in Eurovision.  After that clip, she performed Lovewave and a new song, Amena.
After the performances of Iveta, we could see a recap of all the songs that the finalists sang during those three months of competition.
The finalists sang a last time without the pressure of voting. While we waited the results they performed a duet together. The song was called When You Believe.
The Results
The two finalists were selected by a 50/50 combination of televoting and national juries.  The televoting was based on the percentage of votes each song received through SMS voting and through telephone calls. You can see below, how many points Artsvik received to win the Grand Final.
Draw
Judge
Artist
Song
Jury
Televote
Total
Place
1
Anush Arshakyan
Marta

| | |
| --- | --- |
| Please Don't Stop The Music/Only Girl In The World | |

19%
10%
29%
2
2
Essai Altounian
Artsvik

| | |
| --- | --- |
| I Have Nothing | Aprelu April |

31%
40%
71%
1
Armenia at the Eurovision Song Contest
This will be Armenia's eleventh time at the Eurovision Song Contest. They debuted in 2006, reaching eighth place, with Without Your Love by André. Armenia have a very good track record, having placed in the top 10 on seven occasions. Armenia has only missed one final, when Emmy and Boom Boom did not receive enough votes in 2011.
Armenia's best position to date has been fourth. This was achieved on two occasions when Sirusho scored 199 points in 2008 with Qélé, Qélé, and when in 2014 Aram mp3 scored 174 points with Not Alone. As has been said many times before, Iveta Mukuchyan reached seventh place, last year in Stockholm, when LoveWave scored 249 points.
You can watch that performance one more time below.