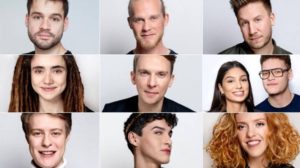 Five songs are automatically qualified for this year's Danish final. Another five will be chosen via a semi-final heat taking place on radio and online where people only can vote for the three songs available for that area.
DR has nine P4 radio districts. These nine districts has been put together three and three to form three areas; South, East and North. Each of these areas will have three songs each – and will pick one of them to the final. Their population can't vote in other area groups. Besides the three area winners, a DR jury will select two wildcards among the remaining six songs. The five songs will take part in the final on the 7th of March – a final in which, they will be up against five more songs that has been prequalified for the final.
Sounds complicated? It actually is, but let's simplify it by using me as a example. I live in the North area group. Three out of these nine semi-finalists are up for election in my area. I can listen to all nine semi-finalists, but only vote for the three assigned to my area. I can vote until Friday the 24th of January at 12:00 CET. Later the same day, the three winners will be announced – and two wildcards picked among the six that didn't make it.
The songs
All nine songs are available on DR's website and on Spotify – and the three songs in each area will be played on radio in that area through this week. You can vote from later today on the song in your area via DR's frontpage.
South Area:
Jamie Talbot – Bye Bye Heaven (Written by Tom Oehler, Hampus Eurenius og Aron Blom)
Kenny Duerlund – Forget It All (Written by Henrik Tala, Mila Falls, Patrick Jean og Kenny Duerlund)
Nick Jones – 2 AM (Written by Jon Hällgren, Lukas Hällgren, Hampus Eurenius og George Keller)
East Area:
SamSara – For You (Written by Lars 'Chief 1' Pedersen, Remee, Kwamie Liv og Sara Amalie Gerup)
Søren Okholm – Impossible Dreamers (Written by Tobias Stigaard Stenkjær, Peter Jantzen, Nanna Supriya Wedel og Søren Fynbo Okholm)
Ben & Tan – Yes (Written by Emil Adler Lei, Jimmy Jansson og Linnea Deb)
North Area:
Emil – Ville ønske jeg havde kendt dig (Written by Esben Svane, Emil Vestergaard Klausen, Gavyn Matthew Bailey og Tim Schou)
Sander Sanchez – Screens (Written by Jonas Thander, Liam Craig og Christopher Wortley)
MieLou We Could Be So Beautiful (Written by Thomas Reil, Jeppe Reil, Bruce R. F. Smith og Eric Lumiere)