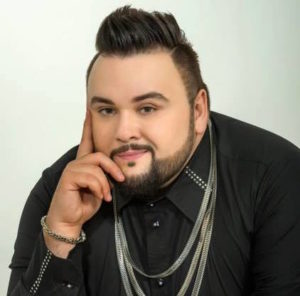 Jacques Houdek will represent Croatia at the forthcoming Eurovision Song Contest in Kyiv. It has been announced by the Croatian National Public Broadcaster HRT (Hrvatska Radio Televizija) today.
Since HRT confirmed in September last year, that Croatia will take part at 2017 Eurovision Song Contest, Jacques Houdek has been often rumoured as the next Croatian act in the contest. Houdek has a long track record of participation in the Croatian national finals. He participated 6 times before. Houdek debuted in 2002, where he finished 13th. His last appearance was in 2011, where he lost to Daria Kinzer in the final round.
Houdek is 35 years-old and he started his career as a singer in 2000. In 2001 he studied solo singing at Berklee College of Music in Boston. Houdek has realeased 12 albums so far and he won Porin, Croatia's version of the Grammy's, several times.
Lately Houdek was participating as a mentor in the Croatian version of The Voice. He won the first season of this talent show in 2015 together with Nina Kraljić, who represented Croatia in the Eurovision Song Contest last year.
The song that Houdek will perform in the second semi-final 11th of May is already known, but it won't been presented for the public yet. Željko Mesar, who is the Head of Croatian Eurovision Delegation, describes the song as a very Eurovision-style kind of song, interesting and challenging. He also said that the further informations about the songwriters and Croatia's appearance in Kyiv soon will be revealed on Croatian national TV and radio. Houdek has explained in a press release that he feels deeply honoured to have been chosen to represent his country. He said that the participation in the Eurovision Song Contest will be the biggest challenge in his career so far.
Croatia in the Eurovision Song Contest
Croatia first appearance in the contest took place in 1993. The country's best result came in 1996 and 1999, when Maja Blagdan (Sveta Ljubav) and Doris Dragović (Marija Magdalena) came 4th. Croatia withdrew from the contest in 2014 and 2015, after they failed to reach the final four years in succession from 2010 to 2013. Last year Croatia returned to the contest and reached the final for the first time in seven years as Nina Kraljić finished 23th with the song Lighthouse.
You can watch Nina's performance in Stockholm here