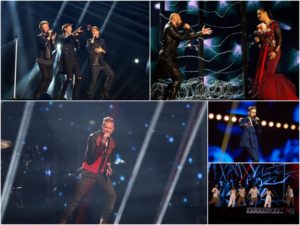 While some countries could celebrate a good result at the 2016 Eurovision Song Contest, others unfortunately had to realise that they brought their country the worst result ever. We take a look at these unfortunate ones. 
Yesterday we focused our attention on the countries that secured themselves and their country a new positive Eurovision record. Today it is time to look at the ones who unfortunately ended up with a result that was the worst their country ever did at Eurovision.
Greece failed to reach the final for the first time
For many years Greece was counted among the countries which would always qualify for the final. 2016 showed that it no longer was the case. For this year's contest, ERT was back as Greek broadcaster, and they used an internal selection to pick their participant. They went for the band ARGO which immediately got under heavy accusation in the national media for simply not being good enough for the task. While we can't blame the band, the result from the first semi-final with a 16th place out of 18, shows clearly that the song Utopian Land at least wasn't what Europe wanted.
Bosnia & Herzegovina also missed out on Eurovision final for the first time
Three years of absence didn't do Bosnia & Herzegovina well. They returned to the Eurovision Song Contest with one of their previous participants, Deen in a duet with Dalal and backed up by Ana Rucner & Jala. All four are well established artists, but Europe didn't fall for their 2016 entry Ljubav Je. They achieved the dreaded 11th place in the semi-final which means they just missed out. To make it worse, they lost the final spot to their neighbour Croatia. Point wise, Bosnia & Herzegovina were however not even close with 29 points up to Croatia at the qualification spot.
Denmark's worst placement as they miss the final for the second year in a row
In recent years Denmark have as the other Nordic countries been doing rather well at the Eurovision Song Contest; A 4th place in 2010, a 5th place the year after and a victory in 2013, and another top 10 in 2014. All results Denmark could be proud of, although they failed to reach the final last year. After a very strong national final which devided Europe in two, those who preferred Simone and those who preferred Anja Nissen, Lighthouse X very surprisingly won. Unfortunately the surprises didn't keep coming as the country once again failed to reach the final. To make it worse, the country hadn't just missed the final two years in a row, they also suffered their worst result ever as they finished second to last in the semi-final where not even their Norwegian neighbours voted for them.
Estonia ends last in the semi-final and achieve worst Eurovision result
This year Estonia was represented by Jüri Pootsmann and the song Play. That song didn't appeal to many abroad as it scored only 15 points from the combined televote in the semi-final, and from the six juries that gave it points, it only scored only either one or two points. With a total of 24 points, Estonia finished last in the first semi-final, and Jüri gave them their worst ever Eurovision result despite already being a country with a very mixed set of results. Since the final in 2003, they haven't been in the final of the Eurovision Song Contest more than five times!
Ireland sends a well known name and still delivers their worst result
A new voting system this year with double up on the points appeared to have helped Ireland's Nicky Byrne to score better than their previous worst result from 2014, but digging into the numbers that isn't the case. In 2014, the country's 35 points in the semi-final were equal to 20,8% of the maximum points they could achieve. This year, they got 46 points, but out of a maximum of 408 and as such Nicky only scored 11,3% which can then be defined as the worst Ireland ever did at Eurovision. Him being a well known artist coming from the boy band Westlife didn't help.
In the second semi-final, Switzerland came last. It is the second year in a row that faith hits the country, but the same thing happened in 2004 as well where they with only one semi-final didn't get one single point. Therefore their 2016 result isn't their worst.
Despite the songs from Greece, Bosnia & Herzegovina, Denmark, Estonia and Ireland scoring so bad at this year's Eurovision Song Contest, we should of course still enjoy them. In the playlist below you can see the performance from all of them, or go straight to your favourite ones.