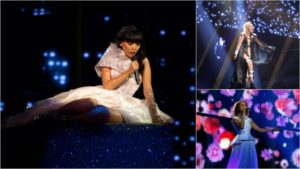 It wasn't just Ukraine that had reason to cheer when they last weekend won the 2016 edition of the Eurovision Song Contest. Among the other countries celebrating were some which achieved their best ever Eurovision result. We take a look at these new records.
Last Saturday, Ukraine won the Eurovision Song Contest for the second time with Australia second and Russia third, but several other countries were happy as well, and some they were even able to cheer for achieving their best result to date.
Czech Republic reached the final for the first time
It was only the fifth participation from the Czech Republic despite joining the contest already back in 2007. The country which returned last year after a five years absence, had never qualified for the final before. Gabriela changed that. In the final this year, things didn't go well however as she failed to win the hearts of the televoters who didn't have one single point for her. Due to the jury she got a total of 41 points, including 10 from Croatia, and left the last position of this year's Eurovision Song Contest final to Germany.
Bulgaria improved their best result with one placement
Another country with trouble reaching the final is Bulgaria. Before this year, they had only reached it once, in 2007 where Elitsa & Stoyan finished 5th with the song Water. This year, Poli Genova returned after having represented her country as well back in 2011. This time, she qualified for the final – and even managed to bring the country their best placement as she ended in a 4th position in the final where the televoters had her as 5th, but the jury points pulled her up as a combined 4th.
Australia as runner up in second Eurovision participation
It was only Australia's second participation in the Eurovision Song Contest so perhaps it doesn't make much sense to talk about their best and worst result, but it still requires a fantastic song and a really good singer to improve Guy Sebastian's 5th position from last year, and that they had in Dami Im and her Sound of Silence. She won her semi-final and was the jury favourite, but as the televoters only had her in 4th position she lost her first position and went down to a combined second place behind Ukraine.
In the playlist you can watch the performances from the winner of the 2016 Eurovision Song Contest, Ukraine and the songs from these countries which scored their best ever result, Czech Republic, Bulgaria and Australia. Watch them all or skip straight to your favourite ones.
Stay tuned on EuroVisionary.com as we tomorrow continue with the countries which scored the worst ever Eurovision result this year.