With Pertti Kurikan Nimipäivät winning yesterday's final in Finland, I ask myself the question if they won for all the wrong reasons of if the population honestly thought they came with the best song? I asked the same question last year when Conchita Wurst won the Eurovision Song Contest.
The song had been getting a lot of international attention already before the national final – and in these days it might explode to a level that even goes beyond what we saw with Lordi in 2006. Back then most attention was on the fact that the band performed as monsters and then a little on that they contributed to the contest with a type of song which was quite unusual. Rock is now more common and as such the attion to the Finnish act won't be based on that. For now on I choose to call by the title of the film about them, The Punk Syndrome, as I can actually spell that! All attention is put on that the bandmembers all have down syndrome… the natural question is now to ask: was that also the reason they won?
My fear is that yes, The Punk Syndrome won because they all have down syndrome. They didn't win because more than one third of the Finnish voters honestly thought that this was the best of the nine songs their national final had to offer, but why is it then the song they voted for?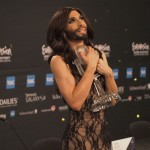 Last year I, and others, felt quite sure that Conchita Wurst wouldn't win. It required too many points from the Russian oriented countries and with their cultural views on homosexuality surely a man dressed as a woman with a beard wouldn't stand a chance. We were wrong. They loved the Austrian power ballad, and were able to look aside their personal views and only judge on the song. See, that would be a fantastic story, if it were true. But I don't think it is. 
After winning the national final a lot of the focus on Rise Like A Phonix was centered around the song, which people described like a true James Bond theme. Conchita however hadn't even arrived to Copenhagen before the song was used to defend LGBT rights. Suddenly that was the act to vote for if you wanted to send a message to Vladimir Putin that you want the gay people to have equal rights in Russia. When she finally stood with the trophy Conchita said the following: "We are unstoppable". Most took that "we" to mean the gay society, and there it became too clear that this was wrong.
I believe in basic human rights – which involves people's right to be gay. For me sexuality is a private matter and people should be treated equal no matter if they are gay or straight. I don't believe in treating anyone differently because of their sexual orientation, and I believe that at a Eurovision Song Contest, it shouldn't matter which sexuality someone has. I am sure some did honestely think that it was the best song. I like it as well and totally agree with a top5 placement for it. I don't agree with it winning as others followed the stream to send that signal to the Russian leader.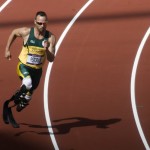 In a song contest the songs should be judged on equal terms for their musicality. When the handicapped South African runner Oscar Pistorius decided to take part in the Olympics, he knew that he would be judged on equal terms with for example Usain Bolt. Pistorius wasn't given a shorter lane to run just becasue he was handicapped. He chose himself to compete, and did have the option of just taking part in the Paralympics instead. 
When you chose to compete at a song competition, you should also be prepared for that your song will be judged on equal terms with the other songs. I don't think the Finnish voters did that, and I fear that in Vienna we will see a case similar to the one with gay rights. This time it will be about their freedom to take part despite their down syndrome. Of course I support that, but I first of all want the song to be judged on equal terms with the others. Music taste differs, but I am yet to come across anyone who honestly will think this is the best song.
I might come across some who as a protest will vote for it as it is only one and a half minute, but I fear the ones who will vote for them out of respect for the handicapped and want to send them a message saying that it is fantastic to see how far they have come under the circumstances they have. Welcome to Europe's favourite Freedom for Minority show.