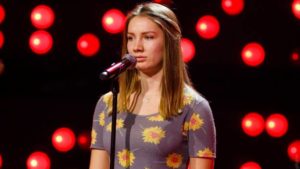 Ellie Delvaux who uses the stage name Blanche will represent Belgium at next year's Eurovision Song Contest held in Kyiv, Ukraine. Local broadcaster RTBF presented the former The Voice participant this afternoon.
RTBF (The French Public Broadcasting Television of Belgium) announced today that their artist Blanche will be representing them in Kyiv. There is no information yet about the song she will sing at Eurovision nor when it will be released.
Blanche is 16 years old and from the Belgium capital of Brussels. Her actual name is Ellie Delvaux, but uses the stage name Blanche. She participated in the talent show The Voice in the 5th season where she reached the semi-finals. Her YouTube channel shows that she so far mainly has sung cover versions.
Belgium at the Eurovision Song Contest
There have been a mixed bag of results since they joined the contest from the start in 1956. Their representative for that year was Fud Leclerc with the song Messieurs Les Noyés de la Seine where Belgium came second. Nil points for the country came in 1962.
Their first English language entry came in 1973, and it was sung by Nicole and Hugo. Nicole & Hugo's song is titled Baby Baby. The first Belgian win came in 1986 for 13 year old Sandra Kim. The song was titled J'aime La Vie. At 13, Sandra Kim will always hold the title for the youngest ever winner of the contest, because now there is the Junior Eurovision Song Contest. Since the semi finals were introduced, Belgium failed to qualify 8 times. The best ever result for them is their one and only win to date.
Below you can watch Belgium's 2016 entry by Laura Tesoro What's The Pressure