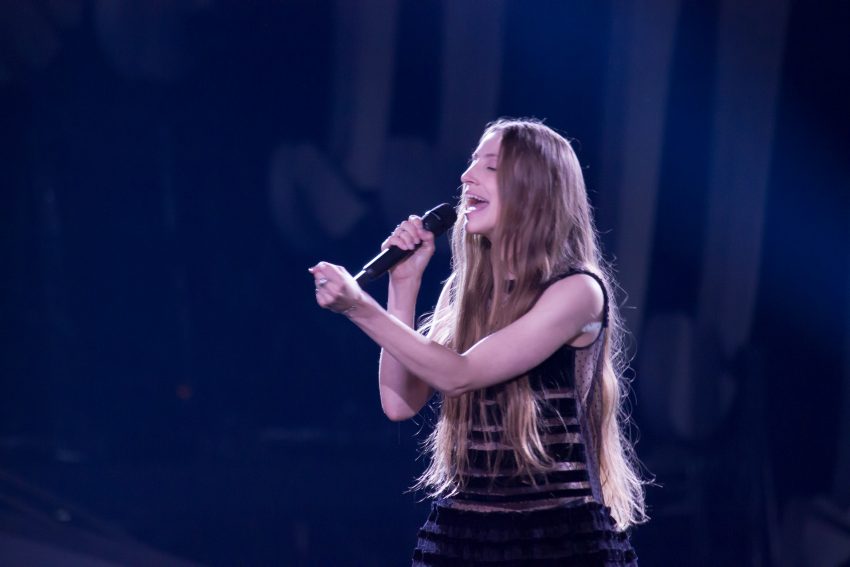 Mysterious and dark. Those are the two best words to describe Belgium's rehearsals and soon to be Eurovision performance. Go to our gallery and take a look on her performance or watch the video below.
A Matter Of Time
, which is written by Alex Callier and Maxime Tribeche, together with Laura Groeseneken aka Sennek herself.
Gallery
Second Rehearsal
The second rehearsal saw a different beginning which is probably the one you will see on the TV.
Opinions expressed during our second rehearsal coverage are personal from the mentioned writers.
Pedro, Portugal (in the arena) The intimacy that appears to happen on TV doesn't repeat itself in the live arena as one has a full experience of the stage's full potential and how this song could've had a better staging overall. Nonetheless, that is not too important as this is indeed a TV show. From a live viewer perspective, the stage's lights are the main focus of Belgium's performance aside from her looks and good vocals. Despite the simplicity of both perspectives, it is safe to say Belgium has a qualifying song.
Michael, United Kingdom (in the press centre) Unfortunately like last year, I fail to see the appeal of the Belgian entry. It just meanders along in the background until it ends. If this qualifies I will be very disappointed as there are so many better songs, more deserving of the final. Unless something more dreary is to come, this would be my last in this semi final.
Complete the sentence
First rehearsal
When Belgium first announced Sennek as their Eurovision act, the singer promised an emotional song and performance but her ideas did change and the very first rehearsal of A Matter of Time do proof it. With a nice and mysterious dark light in her eyes, Sennek's face starts being unhidden word by word. By the end of the first verse, the face is showing along with her entire dark outfit.
Dark is the colour of this intimate performance that takes place in the catwalk and easily catches the viewer's attention as its main focus is the singer itself. Mixed with this mysterious and dark looks and mood, Sennek's stage presence is fierce and sexy.
Vocals were also on key, yet a little alert should be made for when the second verse kicks in and more elements are brought into the song as Sennek's vocals can easily be stuffed by the song itself. Nonetheless, it will be shocking if Belgium doesn't make it through even with such an intimate performance.
How Sennek was selected
Belgium has two broadcasters, Flemish VRT and Walloon RTBF. The Eurovision participation rotate between the two countries. This year, it was VRT's turn. They have before used national finals to select their participant, but this time, Laura Groeseneken was internally selected. Later it was announced that she would perform under the name Sennek.
Following the presentation of the singer back in September 2017, it wasn't until March 2018, the song was released.
Belgium at the Eurovision Song Contest
In the 10 years from 2005 to 2014, Belgium failed to qualify for the final a total of 8 times! Since that, things have been different with the country scoring top 10 results ever since. In 2015, Loïc Nottet scored a 4th place performing Rhythm Inside. Blanche repeated that 4th place two years later.
The country is one of the "original" countries as they took part in the very first Eurovision Song Contest in 1956. Over the years, Belgium have won once, in 1986 with Sandra Kim and her J'aime La Vie. Controversy followed as it later was revealed, she was younger than first claimed. Her being 13, makes her the youngest ever winner, a record which can not be broken as now participants must be at least 16 in the year, they take part.