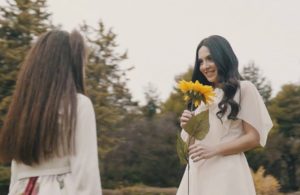 In February, Aisel visited Greece to shoot the video which will accompany her 2018 Eurovision entry "X My Heart". The result, a video directed by Roula Koutroubeli, has been released today. 
Three days ago, X My Heart, with X standing for "Cross" was well received among Eurovision fans. Today, the official video followed. With a well known team behind Aisel, of which several are Greeks, it is quite natural that the video was filmed in Greece.
Director on the video Roula Koutroubeli is a well known Greek Theater director. She has more than 20 years of experience from National Theater of Greece and Epidaurus, but also for her work as an assistant choreographer of Dimitris Papaioannou in the Olympic Games in Athens in 2004.
When I first heard the song I felt optimism, happiness, innocence and a tingling feeling of excitement. It was immediately clear to me that I had to use a child in this video clip. The child symbolizes the inner child of Aisel, and helped me depict all the above feelings that I originally had when I heard the song. When in contact with our inner child, we feel that everything is possible we can "cross our heart and tear down firewalls"… as the song says. I was really happy to work with the multi-talented musician and singer Aisel and I wish the best of luck to her in the Eurovision Song Contest."

Roula Koutroubeli, Director of the video for Aisel's X My Heart. (Statement from press release).
The video released today has been filmed at various locations in Athens and Thiva in February 2018. Check it out in the video below: