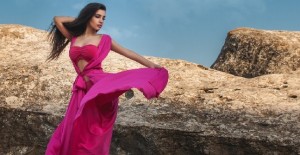 How would you like to help Samra, the Azerbaijani entrant, create the lyric video to her Eurovision entry 2016 Miracle. Samra is calling out to fans to be part of the process.
You can help be part of the creation of the lyric video.
The song Miracle is about a dramatic breakup but the lyric video promises to be uplifting and true to its title.
Samra is calling on her fans and fans of Eurovision to send postcards with their favourite lines from Miracle. Her favourite postcards will feature in the video. The fans whose postcards are chosen will receive a CD signed by the 21-year-old singer.
Watch Samra's invitation to join in below.
"I am excited to have my fans help with the lyric video. They give me strength, and I am so happy to include them in the Eurovision process. Let's make a "Miracle" together," says Samra.
Any fans wishing to take part in the lyric video are asked to write their favourite lyric from Miracle on a postcard and send it to Samra by April 10th.
Samra's address is:
Samra Rahimli
Baku, Azerbaijan
Sharifzadeh str. 241
AZ 1012
In the meantime test your knowledge about Samra by taking our quiz.
Samra (Azerbaijan 2016)
When did Samra take part in the Azerbaijani national selection in the past? Check your knowledge about Samra in this quiz.