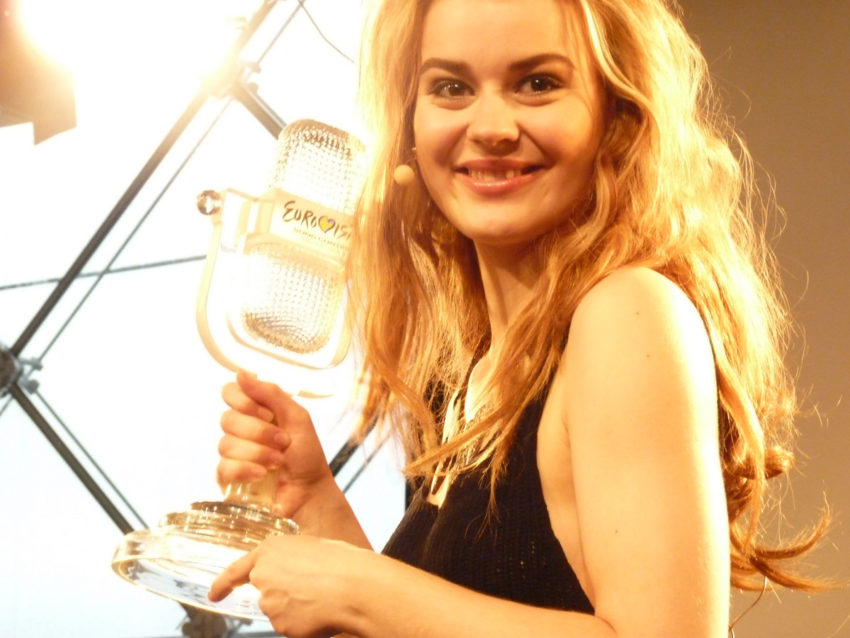 Should it be a recent winner like Duncan Laurence or Netta? A Eurovision classic like Euphoria? With the 2010s coming to a close, we thought we would discuss our favourite winner from the last 10 years and ask for your opinion.
From Lena's catchy Satellite (Germany 2010) to this year's melancholic Arcade for the Netherlands, the last decade saw stylistically diverse songs lifting the Eurovision trophy. Often, winners came from entries that dared to be different, such as Jamala's mournful 1944 (Ukraine, 2016) or Salvador Sobral who, singing in the country's native language, brought Portugal its first ever Eurovision victory in 2017. Half the times – in 2011, 2015, 2016, 2018, and 2019 – the professional juries did not agree with the televote on who ought to win. On the other hand, the 50-50 voting system, by not favouring popular appeal over expert preference, can be seen to have promoted musical variety since its introduction in 2009. In any case, with the decade drawing to a close, some of us here at EuroVisionary decided to pick our own favourite 2010s winners and it goes as follows:
William – Portugal 2017- Amar Pelos Dois by Salvador Sobral – 'Music always has to evoke an emotion with me, happiness, sadness, longing for another and this song does that to me. It's the first time I cried at a Eurovision performance, and for good reason. Salvador's honest and touching rendition of this song makes it so much more than memorable, it makes it timeless. It was a glorious moment to see one of my favourite Eurovision countries win for the first time.'
Michael – Sweden 2012: Euphoria by Loreen – 'This was my favourite at the time as it was so fresh and modern and seemed to take Eurovision up a level. Its constant winning ESC radios' fave song and her rotten follow ups have kind of soured me against the song, but it is still my favourite from the last decade of winners. However last year it dropped from my 7th fave of all time, to my 46th.'
Josef – Denmark 2013: Only Teardrops by Emmelie de Forest – 'My favourite winner of the past decade is probably Denmark 2013 and Emmelie de Forest's Only Teardrops. That is the only song out of the winners where I had no doubts from the first time I heard the official audio. It had some mystical and magical tunes of the flute and drums and made a great impact in combination with Emmelie's voice. If I would go year by year, I would find something good in each of the songs, but none surpasses Only Teardrops. For me, it is a pure gold, maybe rather a diamond, because it always shines so bright.'
Elvir – Sweden 2015: Heroes by Måns Zelmerlöw – 'When I heard Heroes for the very first time, I knew it will win the whole thing. Måns Zelmerlöw is a great artist and his vocal performance, combined with very clever and powerful visual effects, was way ahead of all the other competitors in a very strong field back in 2015. After Vienna, later the same year, I was lucky to attend Måns' concert in Copenhagen – it just conviced me once again that he is one of the greatest artists who took part in the Eurovison Song Contest.'
Theo – Austria 2014: Rise Like A Phoenix by Conchita Wurst – 'For me, this is a well-crafted song – a beautiful melody combined with a Bond-esque musical arrangement that is reminiscent of the time of live orchestras at Eurovision. Good vocal performance, sleek staging and, at the core of it all, a strong message.'
Charlotte – Denmark 2013: Only Teardrops by Emmelie de Forest – 'I might be biased as I am Danish, but in a really tough choice between Only Teardrops and Arcade, I went for the first one. The song is catchy and easy to sing along to, yet it has a delicate touch which prevents it from being "too simple" or sounding like everything else in its genre. The choreography, the drummers, the backdrop and the golden rain provides the last bit which makes this perfect to me.'
Tommy – The Netherlands 2019: Arcade by Duncan Laurence – 'My favourite is Duncan. Simply a quality performance, a quality song and a some powerful and emotional lyrics.'
But this is us – what do you think? Feel free to vote for your favourite Eurovision winner of the last decade in the poll below!
This reflection article is based on the author's own personal experience. Views expressed belongs to him or her, and are to be seen as unrelated to EuroVisionary.com.