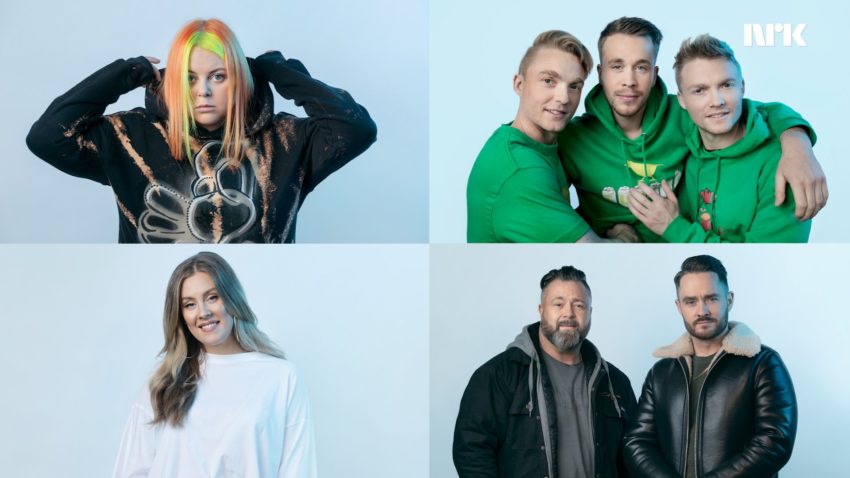 With only one regular heat left in Norway, it's time to focus on the four acts taking part in that fifth heat this Saturday. Today, broadcaster NRK presented the acts. Is there a potential winner among them?
On the 20th of February, 12 acts will compete in the Norwegian Melodi Grand Prix final. Six of them are pre-qualfied acts, five are winners of their battle heat, and finally one act will win a wildcard selection.
Today, it was time to reveal the four acts competing on this coming Saturday. Attention was high. While the first and the second heat had contained many well known names, the third and fourth lacked these big names.
The four acts competing in the fifth heat on Saturday the 13th of February are:
Ane.Fin – Walking In My Sleep
TuVeia – Bli Med Meg På Gar'n
IMERIKA – I Can't Escape
RIVER – Coming Home
The songs are available to listen to already. Links to Spotify can be found on NRK's website.
Norway at the Eurovision Song Contest
With three Eurovision victories, Norway is on track with fellow Scandinavian neighbour Denmark, although both countries are three behind Sweden. Norway first won in 1985, the year after Sweden's second win. Bobbysocks' La Det Swinge has since become a classic hit, which most fans can sing a long to. Ten years later, Secret Garden gave Norway their second win with the song Nocturne, which only contained 24 words, and the rest was instrumental, mainly violin. In 2009, Norway would once again bring the violin to Eurovision – and win by no other than Rybak.
Since the last Norwegian victory, by Alexander Rybak in 2009, Norway have scored rather decent in Eurovision. Stella Mwangi (2011) and Agnete (2016) both failed to reach the final, but of the remaining six entries that did make it, four of them ended in top 10.
Video: Ketil Stokkan – A musical portrait
In a previous heat, we saw Ketil Stokkan perform his 2021 entry My Life Is OK. Unfortunately, he didn't win the spot to the final, but he is still in the run hoping for a wildcard.
With more than 40 years in the music business, this is a man with a lot of experience, and a lot on his mind. Lean back with a glass of wine or a cup of coffee, and enjoy this Ketil Stokkan – A musical portrait in the video below.