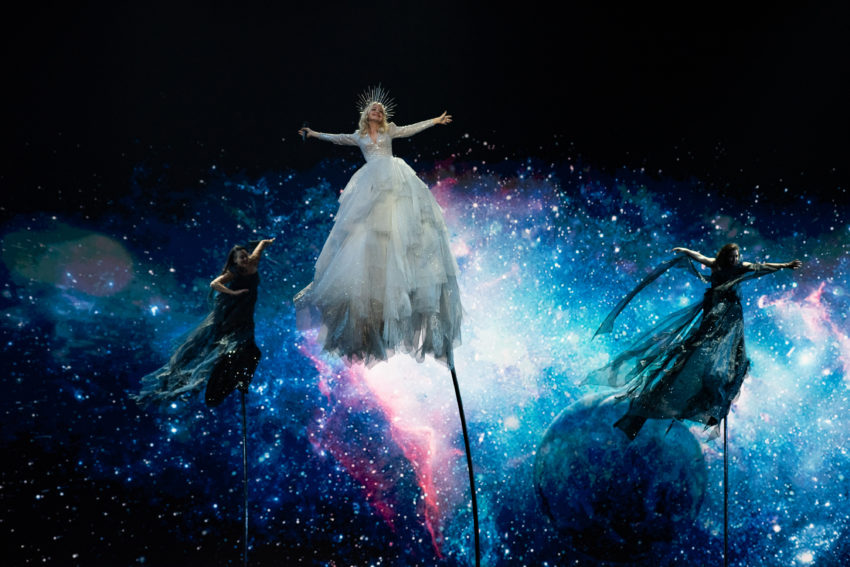 Congratulations to Greece, Belarus, Serbia, Cyprus, Estonia, Czech Republic, Australia, Iceland, San Marino and Slovenia. Tonight, these 10 countries can celebrate that they qualified for the grand final on Saturday.
After Ukraine withdrew, only 17 countries took part in this year's first semi-final. 10 of them would qualify for the final leaving each participant with a 59% chance of success. But some had to face that this just wasn't their year. After more than a week being busy with rehearsals and press conferences – but also celebrating the contest with fans and competitors, it is not easy being eliminated at this stage in the contest.
Tonight's show kicked off with Cyprus's Tamta delivering a very south European show with warmth, plenty of dance, fire and of course a sexy little, revealing outfit. In comparison, we had the middle aged Serhat in a white suit and a disco 70's-80's pop entry to close the show. In between we got quite variety in terms of songs and performances.
Turkish Serhat representing San Marino, Serbia's Nevena Božović and Joci Pápai from Hungary all returned to the Eurovision Song Contest hoping to improve their previous results. For Serhat and Nevena just reaching the final would be an improvement.
Last year's winner Netta opened the show, and 1998 winner Dana International performed as interval act with a cover version of Just The Way You Are by Bruno Mars. Last year's Junior winner Roksana was guest in the show. She didn't perform, but was interviewed by one of the hosts. A tribute to the Eurovision heritage was played in form of a three minute video showing the history of the contest.
Clips from the entries from Spain, France and host country Israel was also shown tonight. These three pre-qualified countries voted in tonight's semi-final along with the 17 participating countries.
Several of the participants clearly couldn't hold back their nerves when the ten qualifiers were announced – one by one.
2019 Semi-final 1
| | | | |
| --- | --- | --- | --- |
| Country | Artist | Songtitle | Result |
| Cyprus | Tamta | Replay | Qualifier |
| Montenegro | D mol | Heaven | |
| Finland | Darude feat. Sebastian Rejman | Look Away | |
| Poland | Tulia | Fire Of Love (Pali się) | |
| Slovenia | Zala Kralj & Gašper Šantl | Sebi | Qualifier |
| Czech Republic | Lake Malawi | Friend Of A Friend | Qualifier |
| Hungary | Joci Pápai | Az én apám | |
| Belarus | ZENA | Like It | Qualifier |
| Serbia | Nevena Božović | Kruna | Qualifier |
| Belgium | Eliot | Wake Up | |
| Georgia | Oto Nemsadze | Keep On Going | |
| Australia | Kate Miller-Heidke | Zero Gravity | Qualifier |
| Iceland | Hatari | Hatrið mun sigra | Qualifier |
| Estonia | Victor Crone | Storm | Qualifier |
| Portugal | Conan Osiris | Telemóveis | |
| Greece | Katerine Duska | Better Love | Qualifier |
| San Marino | Serhat | Say Na Na Na | Qualifier |