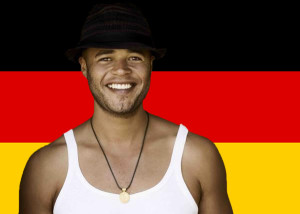 Danish songwriter and x-factor judge, Remee was a bit more surprised than normal after winning the German final. Reason: He didn't know he had sent in songs for the 2008 German selection – and that he even had two songs in the final!
As EuroVisionary has previously reported Remee could have had his Eurovision debut in the Danish final this year, but he had to pull out the song. The song All Night Long song by Simon Mathew was given the available spot and ended up winning the 2008 Dansk Melodi Grand Prix. For Remee life went on as usual being a busy songwriter and producer and as a judge on the Danish X-factor show – up until Thursday evening where one of his songs, Disappear, ended up winning the German final.
Remee was surprised when he was given the news, as he apparently didn't know that the song had been submitted for the German selection. Bigger was his surprise when he realised that another of his songs, Forever or Never, also was among the five participating songs in neighbour country Germany. To Danish newspaper, Ekstra Bladet Remee says about the two songs he wrote together with another Dane, Thomas Troelsen:  "We write thousands of songs to various people and then apparently these two had ended up in the German Grand Prix. This now ended up being the first time I have a song in Eurovision".
Remee is not planning to go to Belgrade though as him and his girlfriend are planning a well-deserved sun – holiday in Turkey at that moment.
It is the second year in a row that a Danish songwriter represents one of the big4 countries. Last year's Flying The Flag that participated for the United Kingdom was written by Morten Schjölin who also wrote one of the songs taking part in Eurovision – Your decision, the new format BBC introduced this year.
Links