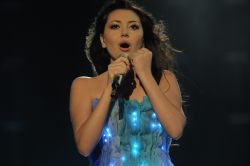 As could be expected, the interest was big when Azerbaijan's performer Safura took the stage. Would the favourite to win the contest live up to the high expectations?
The stage goes in blue colors, so does Safura's dress, the four backing singers dresses and the steps that are used as props on stage (apart from one set of the steps that goes in green). The dancer on stage is dressed in black.
Safuras singing is good and she looks like a contender for bringing the Eurovision victory to Azerbaijan but it doesn't look perfect. She still looks unsteady while walking down the stairs in the beginning of the song and she performed the last run barefoot.
Azerbaijan is by all rights the favourite but this performance does not scream winner at the moment.