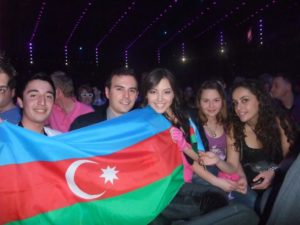 Safura began her preparations for her performance at the 2nd semi final of the 2010 Eurovision Song Contest by sitting and mingling with fans at the 1st semi final last night.
Safura will represent Azerbaijan in Norway with her song, Drip Drop.  She is very relaxed and was happy to mingle with fans before her own big performance.
Safura's first dress rehearsal is today.  We are waiting to see her performance.  Azerbaijan on one of the big favourites to win this year.