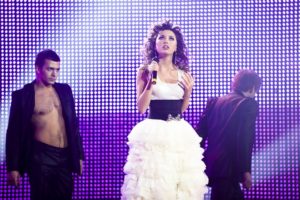 As we reported about the Azerbaijani national final in early March, Safura would be representing Azerbaijan at the Eurovision Song Contest this year, but the name of the song was not released at the time.
Today, Azerbaijani broadcaster ITV (İçtimai TV) reported that the professional jury committee of the channel who chose Safura as the country's representative, have decided the country's entry will be Drip Drop.
The reason that Drip Drop was not announced as the entry during the final was that the jury wanted to give the opportunity for a better song to be submitted by other songwriters. No better songs were submitted, and the best song during the original selection has been submitted to the EBU. The two other songs which Safura performed at the national final were Under My Skin and Soulless.
Safura performed Drip Drop successfully in the national final. The song was written by Swedes Stefan Örn and Sandra Bjurmann. You can watch Safura's performance of Drip Drop below.
Azerbaijan will participate in the second semi-final of the Eurovision Song Contest which will be held in Oslo on 27th May.