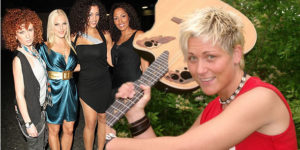 German media are accusing songwriter Remee of having "stolen" his song from a German talent show. Remee turns it the other way around by stating that his song was written first.
It came as quite a surprise for the Danish songwriter, Remee, that he won the German national final as, previously reported here on EuroVisionary, he had no knowledge of the song even being sent in to the selection. He was quite happy though with Disappear being his first Eurovision entry, but now he is beginning to feel what the Eurovision Song Contest is also about: plagiarism accusations.
A German radio station is accusing Remee of having copied the song Break the silence, which Steffi List came third with in a German TV show on 10th of January. Remee does not comment on whether or not the two song songs are too similar, but turns it the other way around. "We wrote our song a long time before their song was published. I don't understand why it is not the other way around and them who has copied our song", Remee says.
Whoever wrote the song first EuroVisionary is giving our readers the chance to judge if the two songs are indeed similar or if this is just another one in the endless row of accusations that comes up every year, but rarely has any justification.