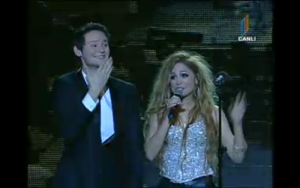 On the way to Düsseldorf, Azerbaijan has decided on their participating song. Running Scared will be performed by national final winners Eldar and Nigar who are nicknamed Ell and Nikki, in Düsseldorf.

After all those semi-final selections, which have been progressing since October, Azerbaijan chose Eldar Gasımov and Nigar Jamal to represent them in Düsseldorf in May. This process was only to choose the singers, the songwriters would submit their songs up to a deadline, The official broadcaster, İçtimai TV, announced several songwriters submitted more than 60 songs to the corporation including the names:
•    Vüqar Babayev – Azerbaijan
•    Micke Vennborn
•    Giorgos Kalpakidis – Greece
•    José Juan Santana – Spain
•    Ülviyye Valiyeva – Azerbaijan
•    Manuel Ángel Moreno Pinilla – Spain
•    Nergiz Safaraliyeva – Azerbaijan
•    Nazim Paşaoglu – Turkey
•    Madalin Botezatu – Romania
•    Sebastian Ivanov – Australia
•    Noam Inbar & Isak Mizrachi – Australia
•    Madura Mate
•    Kamran Cabbarov
The broadcaster has announced that Eldar and Nigar will perform Running Scared in Düsseldorf. The song is written and composed by Swedish Stefan Örn, Sandra Bjurman and Iain Farquharson. This trio also wrote last year's Azeri entry, Drip Drop which finished 5th.
You can watch the official video clip below. You can also take a look to our video section for more. 
Azerbaijan will take part at the first semi-final of the Eurovision Song Contest which will be held in 10th May in Esprit Arena, Düsseldorf.