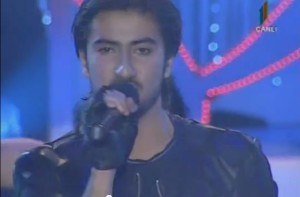 The long Azeri selection process continued with another week of semi-final shows in the host country. Eight qualifiers gave their all to win a place in the Gala Concert, to where only five of them would proceed. Winner of first heat, Orhan Kerimli was the winner of the semi-final.
Qualifiers from each of the last eight heats, Orhan Kerimli, Meryem Kerimova, Hayyam Mustafazadeh, Fegan Seferov, Elton İbrahimov, Adil Bakışlı, Sabina Babayeva and Arzu İsmailova fought for their places in the final.
The shows were presented, as usual, by Leyla Aliyeva and Hüsniye Maharramova. Our eight participants of the week showed their skills over five days in different music styles each night:
•    Monday: World Hits
•    Tuesday: Azeri Music
•    Wednesday: Eurovision Hits
•    Thursday: Performance Day
•    Friday: Participants' Choice
After the performances of the week, the votes were announced from last position to top. The latest results were collected after each day's results with the combination of jury and televoting, 50/50. After all these calculations, five names got the medal of honour to participate in the finals:
Orhan Kerimli – 2259 votes
Arzu İsmailova – 1886 votes
Elton İbrahimov – 1555 votes
Sabina Babayeva – 1098 votes
Feqan Seferov – 818 votes
Adil Bakışlı – 455 votes
Meryem Kerimova – 233 votes
Hayyam Mustafazadeh – 211 votes
The final of Milli Seçim Turu will be held in a 'Gala Concert' as in previous years. That means we will be able to know the Azerbaijan's representative name in final show but the song will be announced in a later date.