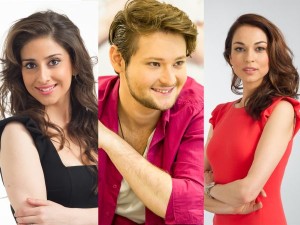 This afternoon it was officially announced that this year's Eurovision Song Contest will be hosted by one half of last year's winning duo; Eldar. This time he is in the company of the two female hosts Nargiz and Leyla. 
The 2012 Eurovision Song Contest takes place in Baku, Azerbaijan in May this year. The three live shows; two semi-finals and a final will be hosted by Eldar, Nargiz and Leyla.
The first one; Eldar does not needs much introduction as he represented Azerbaijan at last year's Contest held in Düsseldorf, Germany and won with the song Running Scared. Back then as a duet with Nikki. This year he will have not just one, but two females around him. As he is educated in both singing and acting this TV task should suit him just fine.
About his hosting job Eldar says: "It is a great pride to be the part of the Eurovision Song Contest, and it is an indescribable happiness and pleasure to share the stage moderating the contest to pass the spirit of the show to the millions of people around the world."
Nargiz comes with a little bit of TV experience although her profession is quite in a different genre as she studied law in the U.S and has been practicing it both there and in Russia. Next to her studies she has worked as a model and as a reporter at the University TV.
She says about her hosting job: "I have been following the Eurovision Song Contest for many years. It has been especially exciting since Azerbaijan started to take part in it. When we won, I was overjoyed, and knew immediately that I wanted to be a part of the contest in 2012. I feel extremely honoured and proud to for being selected to be a presenter at this amazing event!" 
The third host; Leyla works professionally as a TV host, but is actually educated within music. Aside from that she is also involved in charity as well as public ceremonies. The Eurovision Song Contest is nothing knew to her however as she has been working as a reviewer for the Contest in Azerbaijan for several years.
Leyla says about her hosting job: "Eurovision Song Contest is the largest cultural and social event that is able to make people from all ranges, races and nationalities come together and join the huge music celebration. The founder of the Eurovision Song Contest, Marcel Bezençon maybe didn't even know that the contest that was created only for Western Europe will crash the borders and will unite the West and the East. For me, it's a big honour to be a presenter in this fantastic show and become a part of history that will be written in Baku in May. We will light the fire for Eurovision!"
The two semi-finals will take place on the 22nd and 24th of May with the final on Saturday the 26th – all three shows hosted from Baku Crystall Hall.
Below you can see the performance of Eldar and Nikki at last year's Eurovision Song Contest, the performance that is the reason Baku is hosting the contest this year.