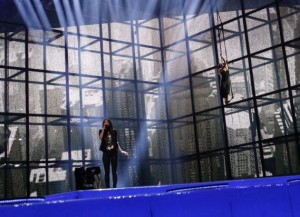 Dilara Kazimova is another artist who has tried many times in the past to represent her country in the Eurovision Song Contest. With musical influences that range from opera to rock to traditional Azeri folk music, Dilara is a prominent figure in Azerbaijan's modern alternative music scene.
It takes a number of sound checks with Dilara before the full rehearsal goes ahead. The presentation starts with a back shot of the singer before the camera turns round for a close shot and, through a long sweeping sequence, reveals a performer who is soon lifted high up on an acrobat's swing. The stage is sublit to start with, black with blue spotlights that later on encircle the singer forming a round imprint on the stage floor.
Dilara, dressed in casual clothes for the rehearsal, gives a spotless vocal performance right from the start. She comes across as relaxed and confident and connects well to the camera. The background images do not appear to be cohesive at this stage, but there are quite a few dramatic moments. After a sudden flash of intense white light, there is an impression of sunlight coming through what looks like a cathedral window. There follow images of high rise buildings in light brown on the floor as well as the background of the stage, making the acrobat on the swing seem as if she is suspended hovering over them. Towards the end, there is some red introduced both in terms of lighting as well as the pattern showing on the background. The presentation's strong asset is Dilara's vocal performance and confident stage presence. The overall effect manages to be quite lyrical.