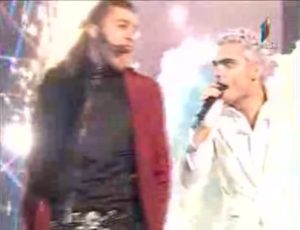 Although Azerbaijan enters the Eurovision Song Contest for the first time this year, Elnur – the Azerbaijani representative – talked about challenging for a possible victory at the contest, "We believe that we will win if we perform well."
Elnur and Samir are the first representatives from Azerbaijan and that makes the contest more important for them. "It's both honourable and responsible to represent Azerbaijan in Eurovision for the first time" Elnur said.
Elnur and Samir worked hard on their promo tours and Elnur mentioned that they had health problems but it didn't affect their tour and their performances in Georgia, Malta, England, Greece and so on according to Elnur.
Elnur believes they can win the contest if they perform well, because there is no rival at the contest and any singer or group can win the contest who does not have a good voice at all, according to Elnur. He also mentioned their performances on the stage, "The angel will spread its wings at the sketch and at the same time the Angel's throne will be exploded at the stage" he said. They also completed their works on their outfits.
Elnur and Samir will finish their tour by going to Turkey in the next few days and they are expected to have more points from Turkey. At the rest of the campaign, new T-shirts, CDs, photos will be carrying on promoted too, Elnur says.
Links