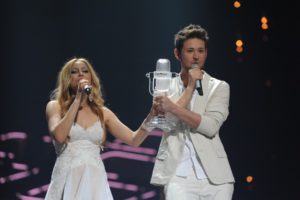 After the success of winning the 2011 Eurovision Song Contest, Ell & Nikki are now storming the music charts around Europe.  Running Scared is becoming a big hit in many countries and is set to be a big summer seller.
Ell & Nikki have already hit number 1 in Luxembourg and are number 2 in Greece, Sweden and Switzerland. They are number 5 in Germany and number 9 in Norway and Austria.
In the United Kingdom and Ireland, Running Scared, has broken in to the midweek Top 40 charts.
The winning performance video has hit over 800,000 hits on You Tube and the official promo video has now reached over 2,000,000 hits.
Ell & Nikki are also being flooded with requests for television and radio appearances.  They will appear on Stefan Raab's popular entertainment show, TV Total, on 18 May.