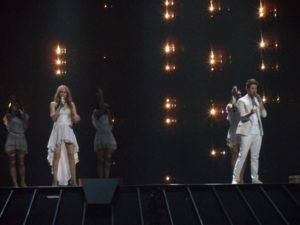 Ell & Nikki produced a confident performance of Running Scared at the 2nd rehearsal for Azerbaijan.  Despite a slight technical hitch on the second run through everything seemed perfect,
Ell & Nikki are both wearing white.  Ell is in a white suit and also a white t-shirt.  Nikki looked very elegant her beautiful white dress.
They are joined on stage by 4 female backing vocalists. The girls are also dressed in white.
The song begins with the 4 vocalists at the front making way for Ell & Nikki to appear.  They then walk around and between the backing vocalists eventually meeting at the middle of the stage for the finale of the song.
The lighting is very effective in this performance.  It begins with spotlights beaming down from above on to the performers.  Then a colourful background of pink and then yellow stars appear.
This is a very strong song and performance and Ell & Nikki do not have to be Running Scared.