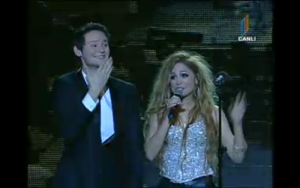 After all those semi-final selections which has been progressing since October, Azerbaijan finally chose the singer who will represent them in May. Two lucky names out of 77 took the golden ticket for Düsseldorf, where the contest will be held this year.
The show started at 18.00 CET and took place in Azerbaijan Academic National Drum Theatre. The show was broadcasted by İçtimai TV Azerbaijan, İçtimai TV Georgia and Turkish TRT Avaz and of course the official page of the contest eurovision.tv also aired the show online.
The show began with the snippets of participants from snowy Azerbaijan and then a dance vision welcomed everyone to the exciting night. The first surprise of the night was the background music which was used at the Eurovision Song Contest 2009 in Moscow. The host of the night, Leyla Aliyeva, who also announced the results of Azerbaijani voting in Oslo, presented the night both in English and Azerbaijani. Surprisingly, participants also interviewed both in Azeri and English inside the green room. So tonight's bilingual show certainly gave a warm welcome to viewers who were watching the show all over the world.
The songs that the participants sang were chosen by an expert jury after they all entered the process via national broadcaster İçtimai TV. They came from all over the world, from places such as Greece, Australia, Turkey, Romania, Spain and of course Azerbaijan.
The first guest was Safura, on the stage singing Drip Drop, and it was obvious that she was miming. Her choreography was quite similar to the one that we saw in Oslo.
The participants of the night performed well known songs in their first presentation:
•    Nigar Jamal, who was presented as the Azeri Jennifer Lopez, was the first participant on the stage. She sang a medley of different songs which are well known over the world.
•    Aynişan Quliyeva was the second performer on the stage. She performed her song quite successfully.
•    Ilqara Ibrahimova – Thank You: This was the third act of the night. She didn't seem aware of her dancers on the night. Probably all she need was different choreography
•    Eldar Qasımov – Je T'aime: This was the fourth performance of the night, with a song by the unforgettable Lara Fabian. We can claim that it came across quite successfully by Eldar, especially with a good French accent.
•    Ilhame Gasımova, The Game of Love: The fifth act of the night was an R&B song with ethnic elements. She didn't seem to have enough breath.
The second guest of the night was Sofia Nizharadze, who appeared with a new hair style, performed One Night Only.  Though Safura mimed her song, Sofia was on the stage singing totally live. She also gave a quick interview after her performance stating how amazing participating at Eurovision Song Contest was! The second performance of Sofia was Shine which would be remembered from Oslo.
Hüsniye Maharramova, who presented the Azerbaijani votes in 2009 in Moscow, surprisingly appeared on the screen speaking from Malta. As the Maltese show is held tonight, she interviewed with the hosts of Maltese show tonight. 
The second appearances were presented in Azerbaijani language by the representatives:
•    Nigar Jamal – Azerbaijan: This song is in Azerbaijani and it was the national song which was about humanism and it was a bit nationalistic. It was not hard to perform it for Nigar sincerely.
•    Aynişan Quliyeva – Sevgi: This was also performed in Azerbaijani and is a song about love. She produced a better performance than her first song. We can say that the ethnic instrument in her performance makes it adorable.
•    Ilqare İbrahimova – Nigaranam: Ilqare's choice was quite better than her first performance. Nigaranam was an up tempo song in pop and r&b style which was performed in both English and Azerbaijani. Her bad choreography carried on in her second performance too.
•    Eldar Qasımov – Gel Ey Seher: The song is well known both in Azerbaijani and Turkish as it was performed in a duet by very popular names; Azeri Polad Bülbüloğlu and Turkish Şebnem Ferah, who was also nominated for the Eurovision Song Contest by Turkish fans. Eldar was left with no more words to say after his brilliant performance.
•    Ilhame Gasımova – Sevenler: This was another up tempo song in European style. With her song Sevenler (Lovers), she performed like she was in a love too!
After the second performances, it was time to have the third guest of the night, Anna Rosinelli, who will represent Switzerland in the Eurovision Song Contest in the first semi-final where also Azerbaijan will be taking part. She performed a new version of her selected song, In Love for A While, which seems so much better than old one.
The third songs were all from the 2009 Eurovision Song Contest:
•    Nigar Jamal – My Time (United Kingdom): Although Nigar pronounced some parts of the song incorrectly; it would have been interesting to listen this from Jade. It was totally disappointing.
•    Aynişan Quliyeva – Carry Me In Your Dreams (Albania): Aynişan chose an up-tempo song after all her previous acts were ballads. We were able to hear her voice from deep inside in a sexy way which was not suitable for this song. She couldn't repeat some parts of the song her breathing was wrong, which made her third performance totally amateur.
•    Ilqara Ibrahimova – Mamo (Russia): As Azerbaijan was a part of the former Soviet Union, it was not hard to sing a Russian song in this selection. Ilqara was better in Russian, although she was good in Azerbaijani and English in her previous performances.
•    Eldar Qasımov – Believe Again (Denmark): Eldar was quite good at showing his skills on stage. He performed Brinck's entry successfully which could bring Eldar the winning trophy.
•    Ilhame Gasımova – La Noche Es Para Mi (Spain): As Ilhame is not a native Spaniard, she couldn't pronounce it better than would have been expected. Another successful performance was made by her.
After the third performances, we got the chance to watch the San Marinese representative, Senit, for the first time in a live show. She probably reminded us of Whitney Houston with her first performance, which was a ballad from her previous album. In the interview after her performance, she stated her motivations for the contest and she claimed in a jokey way that she will win.
Before the most exciting part of the night, İçtimai TV interviewed Jørgen Franck from the European Broadcasting Union centre in Geneve, talking about Azeri motivations on their foundation. The İçtimai TV's spelling on Jørgen Franck as Yorqan Frank would probably be seen unsympathetically by the EBU. The participants then continued their presentation with their fourth performances:
•    Nigar Jamal – Pretty Girls Adores the Diamonds; The song was in an R&B style, we could have said it was some up tempo song. It didn't seem a suitable choice for Nigar's voice. Probably she wouldn't be the winner with this performance.
•    Aynişan Quliyeva – Asq Delisi: Aynişan performed an Azeri song which was probably better than the previous act. The song was performed in a rock style with pop elements.
•    Ilqara Ibrahimova – In Your Eyes: Unfortunately, no-one could understand why Ilqara was singing a Kylie Minogue song. It was obviously announced that the songs that would be performed, was chosen from submitted songs to İçtimai TV.
•    Eldar Qasımov – When You Believe: Eldar was back with another slow performance, it is thought he was better at ballads. It was not too hard for him to present this typical Mariah Carey act.
•    Ilhame Gasımova – Out of Reach: This was probably the best performance from Ilhame with this ballad. If this was the participating song, it could have set Ilhame on her way to Düsseldorf.
After a break, the winning name was decided by an expert jury which consisted of Ismail Ömerov, Leyla Kazimova, Rauf Balbay, Faik Siceddinov, Zülfiye Qanbabayba, Zehra Bedelbeyli, and Menzer Nureyliyeva. While the jury decision was being made, last year's representative Safura presented her songs from her recent album such as Soulless. Safura also announced that she was in full support of Ilqare İbrahimova.
Finally, the results were announced. Two singers were chosen to team up as a duo. Eldar Qasımov and Nigar Jamal will have the honour of representing Azerbaijan at the 56th Eurovision Song Contest in Germany. The song will be revealed later. Azerbaijan will take part at the first semi-final on 10th May to take final ticket to take part again on 14th May.