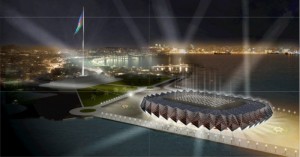 After a long waiting time and many speculations about whether or not they would be ready in time, the newly build, Chrystal Hall in Baku was finally approved by the EBU as venue for the 2012 Eurovision Song Contest. 
The process for finding the right venue to host the three shows in May this year has been extra long and complicated as speculations about if Azerbaijan would be finished building it in good time for the Eurovision Song Contest took over. Today EBU officially announced that they believe it will be finished and therefore the Chrystal Hall was approved.
The hall, that is almost finished, is placed in the center of Baku at the harbour, will be able to host aproximately 16.000 audience per show. EBU's Executive Supervisor Jon Ola Sand says: "We are excited to hold the 2012 Eurovision Song Contest in a brand new, state-of-the-art concert hall. Now that we have the assurance that the construction will be ready in time, we can look really forward to the contest."
Later today, host city Baku, will officially be handed over the task from last year's host city, Düsseldorf. At the same time the semi-final allocation draw will take place. The two semi-finals will take place on the 22nd and 24th of May, with the grand final being on Saturday the 26th.