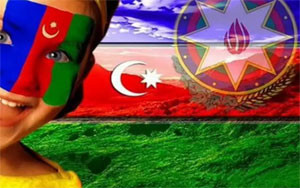 Yesterday, Azerbaijani broadcaster, İçtimai TV  revealed the titles of the songs that will compete in the Azerbaijani national selections for the Eurovision Song Contest. The semi-final will take place on 2nd February.
Since the competing names were published on Euroisionary, yesterday ITV revealed the final list of participants, their song titles and their singers on channel's official website, APA. The list is:
•    Azad Shabanov – Smile (Lyrics: Zahra Badalbayliya / Composer: Vüsal Qarayeva)
•    Safura – Söz Ver (Promise Me) (Lyrics: Günel Musayeva və Zəhra Badalbayliya/ Composer: Elvin Musayeva)
•    Ülviyye Rahimova – In Love (Lyrics: Ülviyye Rahimova / Composer: Sergey Guliyev)
•    Meryem Shabanova – I've Had Enough (Lyrics: Meryem Shabanova / Composer: Meryem Shabanova) 
•    Elli Miçiyeva – Up, Up (Lyrics: Elli Miçiyeva & Taulina Melikova / Composer: İsa Melikova)
•    Milk & Kisses – I Am On Fire (Lyrics: Dilare Kazimova & Feride Nelson /Composer: Dilare Kazimova & Feride Nelson)
Azad and Safura's songwriter, Zahra Badalbayliya, was also the songwriter of Day After Day which was performed by Elnur and Samir for Azerbaijan in the Eurovision Song Contest 2008. It is also known that Group Nero will perform behind Safura's song and Group Spider will help Meryem's performance as well.
The semi-final show will start at 17.00 CET and the show will be able to be watched both on İçtimai TV and a webcast. The winner of the 2004 Eurovision Song Contest, Ruslana, the last winner Aleksander Rybak and one of last year's Azerbaijani representative Aysel Teymurzadeh, will be the special guests on the night.
The songs that will go into the final will be chosen by jury voting at the end of the night. More information can be found on EuroVisionary when details are known.