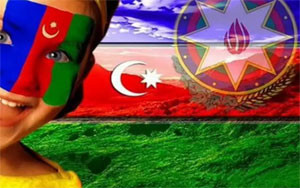 Azerbaijani broadcaster İçtimai TV has announced that the Azerbaijani representative will be chosen by only jury voting. According to the channel, this statement is showing how much importance Azerbaijan attaches to the Eurovision Song Contest.
According to the APA Press Agency, who is the main foundation of İçtimai TV, the Azerbaijani representative will be selected by only jury voting this year in the Azeri preselection. The selection's first semi-final will be held in Buta Palace in Baku on 2nd February.
The head of the Azeri delegation in the Eurovision Song Contest, Adil Karimli, has also announced that: "To show that we attach great importance to the Eurovision Song Contest, we have decided to hold a grand semi-final. The jury will again select the representative; there will be no televoting or internet poll. There are no commercial interests; our only aim is to select a decent singer to represent Azerbaijan".
About the selection, it is also announced that the jury members in 2008 and 2009 will also be part of the Azerbaijani selections this year: ITV Director, General Ismayil Omarov; rector of Baku Music Academy named after Uzeyir Hajibayli, Farhad Badalbayli; executive director of Friends of Azerbaijan Culture Foundation, Ibrahim Guliyev; president of Azerbaijan national music committee of the International Music Council,Lala Kazimova; director of Azerbaijan State Philharmonic Society, Murad Adigozalzadeh; representative of Culture and Tourism Ministry, Manzar Nuraliyeva; and representative of Youth and Sport Ministry Farhad Hajiyev.
Azerbaijan has competed twice at Eurovision Song Contest and their highest rank is 3rd with Always, which was performed by Aysel & Arash.