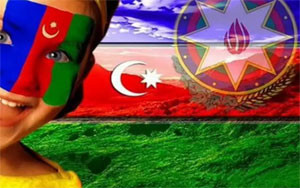 Azerbaijani broadcaster İçtimai TV has announced the final selection date, voting system and further details of the Azeri national final to choose their representative for the Eurovision Song Contest which will be held on Oslo this year.
The primary Azerbaijani selection took place at Buta Palace , Baku on February 2; there were three succesful acts who continue on their path in the national selection. İçtimai TV, the Azeri broadcaster, have announced further details for the final selection night.
The final will be held on March 1. The winning song will be chosen by an expert jury, who had also chosen the Azerbaijani representative in 2008, Elnur & Samir's Day After Day. The full list of jury is:
# Ismayil Omarov – ITV Director General
# Ferhad Badalbayli – Rector of Baku Musical Academy and professor
# Ibrahim Guliyev – CEO of Friends of Azerbaijan Culture Foundation
# Lale Kazimova – President of Azerbaijan National Music Committee of the International Music Council
# Murad Adigozelzadeh – Director of Azerbaijani State Philharmonic named after M. Magomayev and honorable artist
# Menzer Nuraliyeva – Representative of the Ministry of Culture and Tourism
# Ferhad Hajiyev – Representative of Youth and Sports Ministry
As we have announced at EuroVisionary, another better song which will be submitted to Azeri selections, may represent Azerbaijan instead of the winning song with the winner performer. Içtimai TV also revealed a mail adress for everyone who wants to submit their songs. According to İTV managements, songs can be in any language. To submit your song for Azeri selection, please click here.
The three qualifiers from the Azerbaijani semifinal were:
•    Milk & Kisses – I Am On Fire (Lyrics: Dilare Kazimova & Feride Nelson /Composer: Dilare Kazimova & Feride Nelson)
•    Safura – Söz Ver (Promise Me) (Lyrics: Günel Musayeva və Zəhra Badalbayliya/ Composer: Elvin Musayeva)
•    Meryem Shabanova – I've Had Enough (Lyrics: Meryem Shabanova / Composer: Meryem Shabanova)