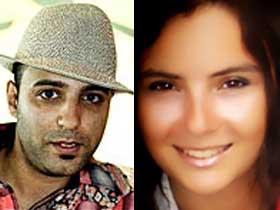 The Azerbaijani respresentative, Aysel Temourzadeh, has submitted her song that she will be performing on stage at the Eurovision Song Contest 2009 in Moscow. The Azerbaijani singer will be performing with Arash who has written their entry, Always.
İTV, the Azerbaijani broadcaster, announced in early January that Ayzel Temourzadeh would represent Azerbaijan in the Eurovision Song Contest 2009 which will be held in Moscow this year. After the confirmation of Aysel, it had been rumoured that Arash, who is also a popular composer and singer worldwide, would have been her co-worker on the Eurovision Song Contest road to Moscow.
A couple of days ago, Arash and Aysel have announced their song, Always. The song is composed by Arash who is from South Azerbaijan. The song includes Azerbaijani musical elements. Aysel also believes that they may bring a success to Azerbaijan with their entry, according to her media releases.
The song will be performed in one of the capitals of Europe some time in March.
Azerbaijan participated in the Eurovision Song Contest for the first time last year. Azerbaijani representatives Elnur & Samir reached 8th position with their entry Day After Day. Azerbaijan will participate in the second semifinal of the Eurovision Song Contest on 14th May.
You can listen the Azerbaijani entry, Always, below:
www.youtube.com/watch?v=wiaHC3dJwdk