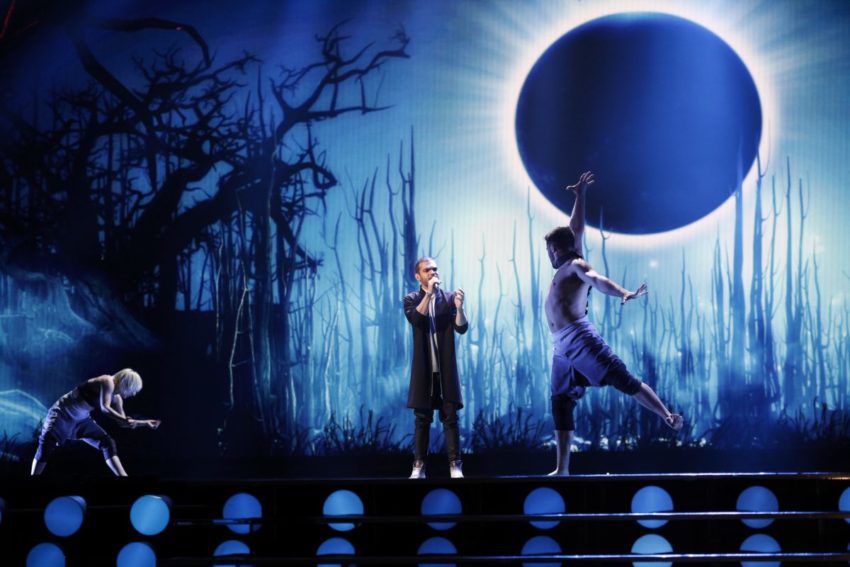 Azerbaijan will be performing 11th in the upcoming Second Semi Final this Thursday. The country is represented by Elnur Huseynov with the song Hour Of The Wolf. Are there any changes since the country's first rehearsal? What is the impression left by the song amongst the other entries in the running order? We try to answer your questions reporting live from inside the hall of Wiener Stadthalle.
The presentation looks considerably more polished compared to Azerbaijan's first rehearsal. Both the male and female dancers now sport bleached blond hair and this works well as they look more of a unit. Elnur's vocal performance is good and the singer even manages to keep his eyes open as well as to smile here and there. For the fourth run, Elnur is wearing a t-shirt with 'Conchita UR Unstoppable' written in red letters on it. Again, one wonders why Azerbaijan should be put after Latvia – could it be that, after a more experimental sound, we now get the more conventionally sounding ballad from Azerbaijan? Given that all Azerbaijani entries have qualified from semi finals, one would expect that this might do, too.
You can read a report on Azerbaijan's first rehearsal here.
Azerbaijan has managed to qualify from all six semi finals the country has participated in.
Our video from Azerbaijan's first rehearsal will appear here shortly!