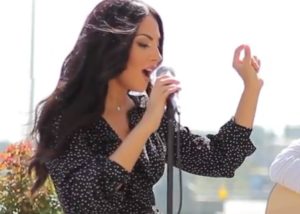 We are only in the beginning of November 2017, but already three artists are announced for the 2018 Eurovision Song Contest. This morning, Azerbaijani broadcaster Ictimai TV broke the news about Aisel as their representative.
It was in a short post on their website that Ictimai TV released the news that they, after a short meeting, decided to pick Aisel as their 2018 Eurovision representative.
Aisel is a jazz singer, and based on the songs on her YouTube channel, we can tell her that her style is jazz with dramatic and deep undertones. This will be something new for Azerbaijan, and question is whether or not, this has been influenced by Salvador's Eurovision victory for Portugal.
There is no information yet from the broadcaster about when and how they will chose the song with which she will represent them at the 2018 Eurovision Song Contest. While waiting for the song, do take a look at Aisel's My Only.
Azerbaijan at the Eurovision Song Contest
10 finals in just as many attempts. The results speak for itself. Azerbaijan is one of the most succesful countries at the Eurovision Song Contest.
They joined in 2008, won in 2011 with Ell and Nikki's Running Scared, and in the first six years, they always finished in top 10. In 2017, Dihai came 14th with the song Skeletons. Enjoy that in the special Full Stage view video below, while you think about how it will go when Azerbaijan goes jazz for the 2018 Eurovision Song Contest.