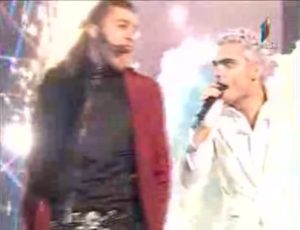 Azerbaijan has selected Elnur as their first representative on the Eurovision Song Contest stage. After the Swiss vampires didn't survive the 2007 semi-final, Azerbaijan tries the same theme again hoping that angels might keep them alive.
Elnur Guseynov will represent Azerbaijan in Eurovision 2008 in Serbia.
Elnur Huseynov was born on March 3, 1987 in Ashkhabad, Turkmenistan, in family of servicemen. His mother is a musical theorist. In 1992 Elnur entered a school for gifted children under the Conservatory and was trained at the piano.
In 1999 his family moved to Baku, Azerbaijan, and in 2000 Elnur started studying at a medical college. A year later he entered the Music School named after Asaf Zeynali, at the same time taking lessons from teachers: Sevda Mamedova and Fidan Kasimova. His current teacher is Rashad Gashimov.
Afterwards he has worked at the State Opera and Ballet Theatre of Azerbaijan and at the Azerbaijan State Philharmonic named after Muslim Magomayev in the chapel and sung in church choir. In 2003 he was awarded the grand prize in the TV programme "Sing your Song". After leaving the music school in 2004 he began learning to be a stylist and a hairdresser