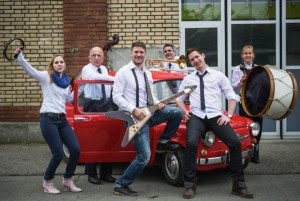 Takasa consist of six people active within the Salvatian Army. They share the interest for music, but none of them works professionally with it. The group have quite an age spread among them; from 21 years old to 95.
The band members are:
Sarah Breiter (21, vocals) is a senior citizens' healthcare professional
Christoph Jakob (31, vocals) is training to be a teacher and works part-time in IT support
Katharina Hauri (46, bass drum) is a Salvation Army officer who leads the Gurzelen corps with her husband
Emil Ramsauer (95, double bass) is retired, offers a transport service for senior citizens, and continues to practice his former bookbinding profession in his own studio
Michel Sterckx (47, trombone) coordinates the Salvation Army's Projects section 
Jonas Gygax (22, guitar) is a freelance music producer and works for a security company
In the Swiss national final the band performed under the name Heilsarmee, but in order to meet EBU's rules this was later changed to Takasa. It is often being refered to that the word Takasa in Swahili means clean, where as others just see their name as The Artist Known As Salvation Army.
Participant Profile
In the semi final