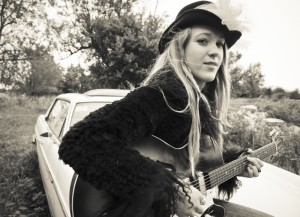 Soluna Samay was unknown to most Danes when she was announced as being one of the participants in the national final. Her mother is from Switzerland and her father from Germany – and Soluna herself is born in Guatamala, so she has quite an international background. Soluna is now settled in Denmark after moving to the country when she was 10 years old. Back then she also self-released her first single I Wish I Was A Seagul.
As her father was a street musician Soluna got into this enviroment from an early age helping her out – and later when she was old enough performing herself in the streets of Copenhagen and other places around the world. Soluna was discovered by the songwriters when they saw a video of her on one of the social medias.
If Soluna was unknown to the Danes the three songwriters were quite the opposite. All three of them are well established songwriters and two of them have even participated in the Eurovision Song Contest before. In 2008 Remee represented Germany as a songwriter behind Disappear which was sung by No Angel and in 1997 Cheif 1 had written the Danish entry Stemmen I Mit Liv. 
Participant Profile
In the final
In the semi final