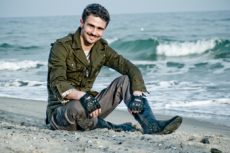 Pasha Parfeny is a well known and establised artist in Moldova. He has performed in many festivals at home and abroad.
He was a former member of the popular group Sunstroke Project.  They took part in the Moldovan Eurovision national selection in 2009 with the song, No Crime, and they finished in third position.
Pasha then went solo and performed in the Moldovan national final in 2010 with You Should Like and this time finished in second place.
He has won top prizes at the Voices Of Transnistria competition, Duet Of The Year and Silver Lantrei in Bulgaria, first place in the Mamaia Contest in Romania and top position at the Slavianski Bazar in Vitebsk, Belarus.
Participant Profile
In the final
In the semi final