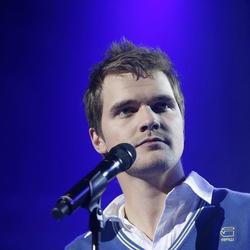 Ott Lepland was born in Tallinn in 1987, with his parents actively encouraging him to pursue his interest in music and song from an extremely early age. By the age of 13 Lepland had already released an impressive four albums featuring children's music. It seemed therefore the natural choice to continue on to musical studies, with the youngster studying the piano for a further 10 years. He is currently enrolled at the Georg Ots' Tallinn Music School where he is studying pop and jazz vocal echnique.
His rise to stardom came with his appearance on the Estonian Idol in 2009, Eesti Otsib Superstaari, where he beat the competition hands down. Further fame followed in 2010 with Lepland cementing his status with the lead role in an Estonian production of High School Musical. In the same year, he released his debut self-titled album. Another album, entitled Laulan Ma Sind (I Will Sing For You) followed in late 2011. During his recording career, Lepland has released an impressive nine singles. Through constant public appearances, the singer has built up an extremely loyal fanbase, with a book, Ott, Lubage mul olla. Ott Lepland (Let Me Be. Ott Lepland) documenting the singer's rise to fame appearing on the bookshelves in late 2010.
Lepland has also enjoyed further TV exposure, with his participation in the 2011 competition Laulupealinn (Capital of Songs), where he represented the town of Kärdla, also taking them to victory. It seems as if Ott Lepland has the midas touch, with everything he touches turning to gold. His journey to Baku will indeed be an exciting one, where he has nothing to lose but everything to gain.
Participant Profile
In the final
In the semi final