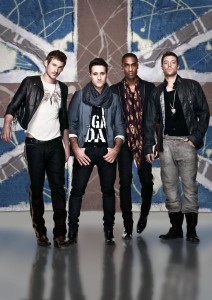 Blue are made up of Duncan James, Antony Costa, Lee Ryan and Simon Webbe.  They were one of the biggest bands in the United Kingdom and across Europe between 2001 and 2004.
Their first hit was the anthemic All Rise that reached number 4 in the UK charts in May 2001.  Blue's next 2 singles went all the way to number one, Too Close, and then, If You Come Back.  Their next single was the summer sound of Fly By II reaching number 6 in the UK charts.  All these songs were from the debut album, All Rise.
Blue's 2nd album was called One Love and this went straight to number one.  The title track reached number 3 and the follow up was number one duet with Elton John, Sorry Seems To Be The Hardest Word.  The final single of that album was U Make Me Wanna.
Blue released a 3rd album called Guilty.  The first single of this album was a cover of the Stevie Wonder song, Signed, Sealed, Delivered, I'm Yours featuring Stevie Wonder and Angie Stone.  The following singles were Breathe Easy and Bubblin'.
The band split in 2004 and released a Greatest Hits compilation album.
Blue decided to reform in 2009 and started to write new songs.  They wanted to make a big impact upon their return and they thought the idea of representing the United Kingdom at the Eurovision Song Contest was a great idea to announce they are back.
Participant Profile
In the final