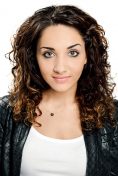 Natália Kelly was born in the USA and lives in Lower Austria today. In 2006 she won the talent competition "Prima La Musica" in the category
Piano while in 2008 she came third in the category "Solo Klassischer
Gesang" (single classic chant). Her trademark is her powerful and unique
RnB voice. Her debut album was supposed to be released just in time for the Eurovision Song Contest. Natália says that it is an honour and a great pleasure to her to represent Austria at the Eurovision Song Contest. It is a big opportunity for her to gather important musical experience.
Participant Profile
In the semi final