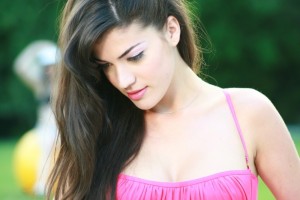 Ivi Amadou is 18 years old.  She began her career in the X Factor tv show in Greece.  After the show she released her first album, Kalokeri Stin Kardia, and this went Gold status in Greece.  There were three hit singles from the debut album. They were A.G.A.P.I, Sose Me and To Mistiko Mou Na Vreis.  In 2010 she had a massive summer hit in Greece and Cyprus as guest vocalist for Greek act, Stavento, with the song San Erthi I Mera.
In December 2010 she released a Christmas album, Christmas with Ivi.  This also gained Gold status sales.
In 2011 Ivi released a duet with the Greek band, Melisses, Krata ta matia sou klista.
Ivi released her latest album in July 2011, San Ena Oniro.  The first single off the album was Voltes Sta Asteria, another big summer hit.  The album has since been re-packaged to include her three Eurovision national selection song.
Participant Profile
In the final
In the semi final