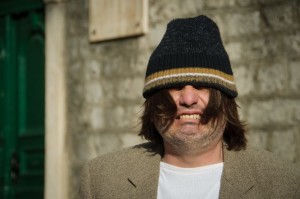 Rambo Amadeus is an extraordinary, extravagant singer of the former Yugoslav music scene. Antonije Pušić (his real name) was born in Herceg Novi, a town on the incredibly beautiful Bay of Kotor. Rambo is the 51 year old composer, well known writer and performer in Montenegro.
Rambo was talented in the sport of sailing and as a teenager he managed to win remarkable awards for his achievements in sailing. His songs have a great mix of satirical lyrics, which hints on the nature of ordinary people and on failures and foolishness of some politics. He specializes in various musical styles such as rock and jazz with adding some spicy ironic wit. The name of Rambo Amadeus is linked with the term of turbo folk, which is the national and outstanding sound of Montenegro. His songs often link to strange but extraordinary taste, popularity, with spicy lyrics, and brutal folk music. Rambo's concerts have a unique mix of music and humour, which have been described  as foolishness of human being in a satirical and ridiculous manner. He is compared with Frank Zappa and Captain Beefheart as well by his eclectic, innovative and extraordinary style. The concerts performed by Rambo Amadeus are a mix of a professional music, improvisation and sophisticated humour. Rambo's concerts never pass without success but amaze and always charm and mesmerize the audience.
Rambo succeeded in remaining clearly distant from so-called radio friendly music, often adding some spicy parody and humour in order to show his beliefs. He calls himself World Mega Tzar as he is famous for funny lyrics mixed with crazy funk music and unpredictable live performances, spiced with satire, which sometimes has bond with comedy and very ridiculous as well. The music and humour can never be separated for Rambo and this fact will be performed in his 2012 Eurovision entry, with the song, Euro Neuro.
Participant Profile
In the semi final