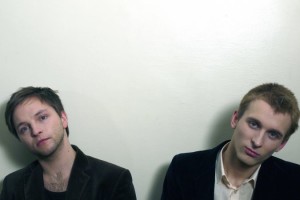 Malcolm Lincoln is a duo consisting of writer Robin Juhkental and bassist Madis Kubu formed in October 2009.  They describe their musical style as 'quirky electropop'.  Indeed, their style is reminiscent of some electro bands from the 1980s.  Malcolm Lincoln takes its name from a player on the TV quiz show Who wants to be a millionaire, who was convinced that Malcolm Lincoln was a former US President.
Malcolm Lincoln's début album is due for release in Spring 2010, under Vaiko Eplik's record label Mortimer Snerd.
Manpower 4, this year's backing vocalists, are Jaanus Saago, Andrei Ozdoba, Mick Pedaja and Kristjan Knight.
Participant Profile
In the semi final